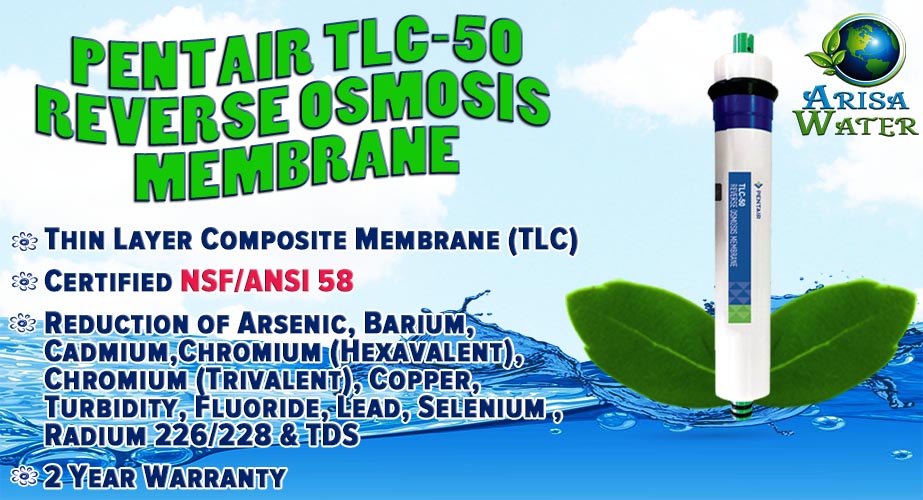 Pentair's TLC-50 Reverse Osmosis  Membrane is a TLC (Thin Layer Composite) membrane. The Pentair TLC-50 uses industry leading state-of-the-art technology.   The Pentair TLC-50 provides a high quality water for a broad range of water compositions. Each membrane is required to meet our factory's strict performance requirements prior to shipment.
Features:
(TLC) Thin Layer Composite membrane
Standard dimensions to fit in commonly available housings
High rejection stability at high input TDS
100% dry membrane maximizing shelf life
Pentair Membranes are interchangeable with Filmtec, GE, CSM & other standard size membranes. Upgrade your reverse osmosis system today to a top performing Pentair membrane and enjoy saving money.
What is a Thin Layer Composite Membrane?
Thin-film composite membranes (TFC or TFM) are semipermeable membranes.  A TFC membrane works like a molecular sieve constructed in the form of a film from two or more layered materials by use of nanofiltration.
As is suggested by the name, TFC membranes are composed of multiple layers.TLC-50, and TLC-75 are tested & certified by NSF/ANSI to NSF Standard 42 and NSF Standard 58 for the reduction of Arsenic, Barium, Cadmium, Chromium (Hexavalent), Chromium (Trivalent), Copper, Turbidity, Fluoride, Lead, Radium 226/228, Selenium & TDS