Arisa Water's Salt-Free Plus Whole House Water Treatment System is an extremely efficient water softener alternative that is revolutionary in the water treatment industry.  Arisa Water's Salt Free Plus uses a Next Generation salt-free water technology called Nucleation Assisted Crystallization (NAC).  Tested and certified by the WQA Gold Seal Program and the NSF 42 Certification process, this water treatment system is in a class by itself!.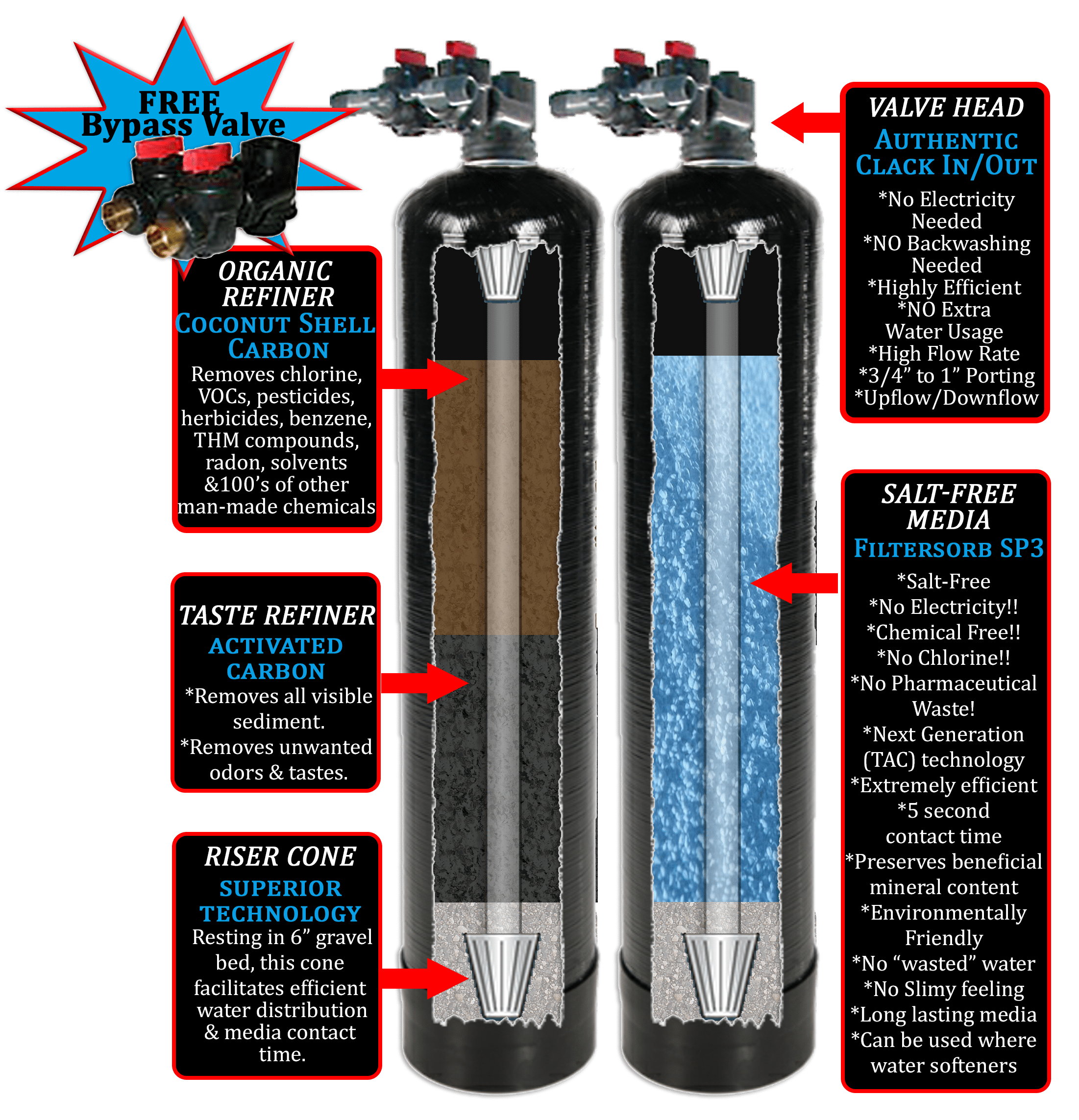 Features
Uses Clack 1190 In-Out Upflow Head
Salt-Free, Chemical Free
Requires No Electricity!
Uses Nucleation Assisted Crystallization (NAC) technology effectively isolates hardness in water chemistry.
No Pharmaceuticals!
Extremely efficient – 5 seconds contact time regardless of hardness level.
Conventional Ion Exchange resin requires 90 seconds.
Preserves beneficial mineral content
Environmentally Friendly
Great for Food Grade Applications
Requires No Backwashing ("wasted" water)
No brine discharge. Can be used in areas where conventional water softeners are banned.
Long lasting media-not consumed by the reactions.
No Slimy soft-water feel.
Description
What is Nucleation Assisted Crystallization (NAC)
Arisa Water's Salt-Free Whole House Plus uses NAC water technology. NAC is the Next Generation above the top performer in the famous U of A Salt-Free Water Treatment Study, that concluded that Template Assisted Crystallization (TAC) water technology was the best salt-free treatment currently available in 2010.
Arisa Water's Salt-Free Whole House Plus system uses this NAC technology to transform calcium and magnesium minerals in your water into harmless "Nano" crystal particles.  These "nano" crystal particles don't attach to fixtures, pipes, valves, or heating elements.  Learn more about Filtersorb SP3 media attributes here…
Arisa Water's Whole House Carbon System
Protects the Salt-Free media from chlorine damage.
Chlorine will ruin many types of Salt-Free media and softener resins.
Removes chlorine, VOCs, pesticides, herbicides, benzene, THM compounds, radon, solvents &100's of other man-made chemicals!
Makes the water taste great!